APS Credit Rating
Scandiplan system ApS receives AA credit rating, a rating that is only awarded approx. 20% of Danish companies.
It is the second-highest rating and clear proof of the stable business development at Scandiplan Systems.
The Danish pioneer in the design of well-functioning and user-friendly journal systems is of course very proud of the award and the signal that the AA rating sends to the ever-increasing volume of customers and partners.
About Soliditet's credit rating system.
Soliditet's credit rating system was launched in 1989 and marks a company's payment and survival capacity based on more than 2,400 decision-making rules.
It ensures the market's most comprehensive and risk-free credit rating. The result is presented in the form of a credit rating from AAA to C.
Description from Soliditet.dk:
AA – Good credit rating To obtain an AA (Double-A), it must be a company with a good ability to meet current risks
An enterprise's credit rating is an expression of its creditworthiness and ability to survive.
Bisnode has the most recognized and well-established credit rating model on the market and is calculated from a mathematical algorithm based on more than 2,400 decision-making rules.
These decision-making rules are based on the partial assessments of basic data, ownership, finance, and payment experience. Furthermore, the standard is an internationally recognized switch.
Contact
Maybe you need help with a specific assignment, maybe you think of a larger BI project. You may also have an entire 3rd agenda. If you think it's time for a meeting or just want to hear more, It is quite free and non-binding.
For further information please contact CEO, Jørgen Espensen info@scandiplan.dk, +45 22 81 68 52 or Scandiplan.dk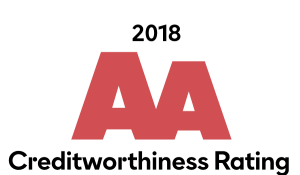 aaa highest creditworthiness
aaa highest creditworthiness